From October 16th to 18th, there was training session of Shimamoto microbial method in South Korea. Three of our company including our president Shimamoto joined the session. It was held at a city called Daegu, which is located at two hours north of Busan airport by driving highway.
The hotel where the training session was held was located at high altitude and it was cold there and we could see colored leaves which were not able to be seen back in Shiga, Japan at that time. It made us feel the arrival of autumn.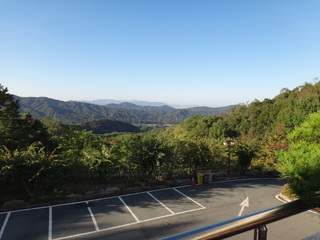 At the hotel, there was a banner written as "Shimamoto Microbial Method training session" and we could see how much people in South Korea are interested in our microbial method.
From 13pm on October 16th, 20th training session of Shimamoto microbial method had started. Many farmers Throughout South Korea participated in this 20th commemorative training session and we had big opening ceremony.
After the opening ceremony, lectures on basics of microbial method and soil building were given by our president. He talked about soil building which was the keynote of this training session as the introduction of microbial method. It was impressive to see the participants writing it down while listening eagerly.
After the president's lectures, we introduced our practices and achievements in our BYM farm. Many of the participants were apple farmers and we mainly talked about apple cultivation by Shimamoto microbial method. We also showed some slides on soil building and its results. They were surprised with the results and it made them reassured importance of soil building.